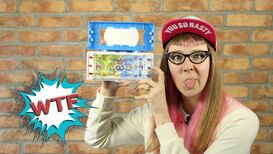 Wonderful Treasure Find (W.T.F.) is an Eat Your Kimchi segment. It was created in order to show unique and different toys from around Korea, as well as the rest of the world.
There are videos featuring toys, inflatable swans, beauty guru gadgets, as well as many more findings from around the world.
The segment usually includes Simon and Martina competing in challenges using the games/toys. The winner receives a reward of some kind, while the loser gets a punishment.
Unlike other segments, this one was brought over to the Eat Your Sushi segment.